Aion: Classic 2.0 Update Preview
Update Arrival: May 25
Bonus Stormwing Pet!
Before we get into the exciting preview of Update 2.0, we have a special announcement for all you Daevas excitedly gathered here today! Prepare yourselves for the classical memories and nostalgia to come and save this special code: Simply add it via your account manager [here] on May 25 and reap the rewards for being part of this continued community effort and love for Aion!
Please Note: The code above CAN NOT be redeemed until May 25, 2022, after maintenance! 

When you register the code above on May 25, you'll be given a free 30-day Stormwing Pet, which will automatically collect loot and use consumables for you! Please make sure to register this code before it expires on June 22.
Now, without further ado, let's get into the real meat of this 2.0 Preview!
---
Welcome to the 2.0 Preview!
Many of you have been waiting on the edge of your seat for this update, and it is our great honor to present the official preview of Aion v2.0: Stormwing's Defiance arriving in May! But just what wonderful delights might we see in this soon-to-be patch? Well, there's quite a lot to cover, so let's give a quick rundown of what to expect:
2.0 UPDATE OVERVIEW
Aion: Classic will have its 2.0 Update on May 25, which includes a level cap increase to 55, new zones of Inggison, Gelkmaros, and Silentera Canyon, as well as new instances and items which should bring back some nostalgic memories. We would also like to request YOUR feedback on some content that we believe needs to be adjusted and improved.
LEVEL CAP INCREASE TO 55 AND NEW ZONE: BALAUREA
Level Cap Increase
The maximum character level will be increased to 55, and unique skills and stigmas for each class will be added. With the addition of skill trees that improve strengths and overcome some weaknesses each class had, you will now be able to experience more diverse forms of PvP and PvE battles.
Balaurea
First, we would like to introduce three new zones with the 2.0 update. As you remember Balaurea in the original 2.0 update, the Elyos zone Inggison and Asmodian zone Gelkmaros will be added to the game, along with Silentera Canyon, a neutral PvP field connecting Elyos and Asmodians territory.
Field Bosses
Omega and Ragnarok Field Bosses have been tuned so that you will feel the same vibe fighting them as in the original Aion 2.0 days.
BALAUREA FORTRESS SIEGE
4 New Fortress Sieges will be added to the game:
Altar of Avarice
Crimson Temple
Temple of Scales
Vorgaltem Citadel
Schedule:
Crimson Temple + Temple of scales 7:00 PM ~ 8:00 PM Server Time, every Tuesday
Altar of Avarice + Vorgaltem Citadel 7:00PM ~ 8:00PM Server Time, every Thursday.
All 4 fortresses at 6:00PM ~ 7:00PM server time on Sundays.
NEW INSTANCES
Instance Dungeons
You will now have access to various new dungeons. Solo instance dungeons like Taloc's Hollow allow faster leveling by killing monsters with powerful transformation effects, and at Udas Temple and Lower Udas Temple, Daevas can farm accessories while you grow stronger.
The Beshmundir Temple, where Stormwing is waiting for his prey, can be selected in 2 difficulties; normal or hard mode, so that Daevas can challenge according to the party's choice.
At Beshmundir Temple, Daevas can loot Aion: Classic's very first heroic grade armor: Stormwing equipment. In addition, Chantra Dredgion, a PvP battlefield dungeon that can be entered at level 51 or higher, will be added. Seven new instances await brave Daevas!
Beshmundir Temple
Chantra Dredgion
Empyrean Crucible
Haramel
Lower Udas Temple
Taloc's Hollow
Udas Temple
Instance Improvements
There are also some new changes related to dungeons. Solo instance dungeon, "Haramel" has had its entry level lowered from 18 to 15 for easier and faster initial growth. The Tiak's Research Center and the 3rd Empyrean Crucible's entrance, matching, and content levels will be adjusted according to the increased level cap.
NEW ABYSS EQUIMENT
Primus Pilus Items
Originally in the first 2.0, there were some issues Daevas experienced because the Primus Pilus and Brigade General items—which were added afterward—were both purchased with Platinum Medals.
So, in the 2.0 Update on May 25, we plan to make improvements to prevent such inconveniences.
NEW ITEM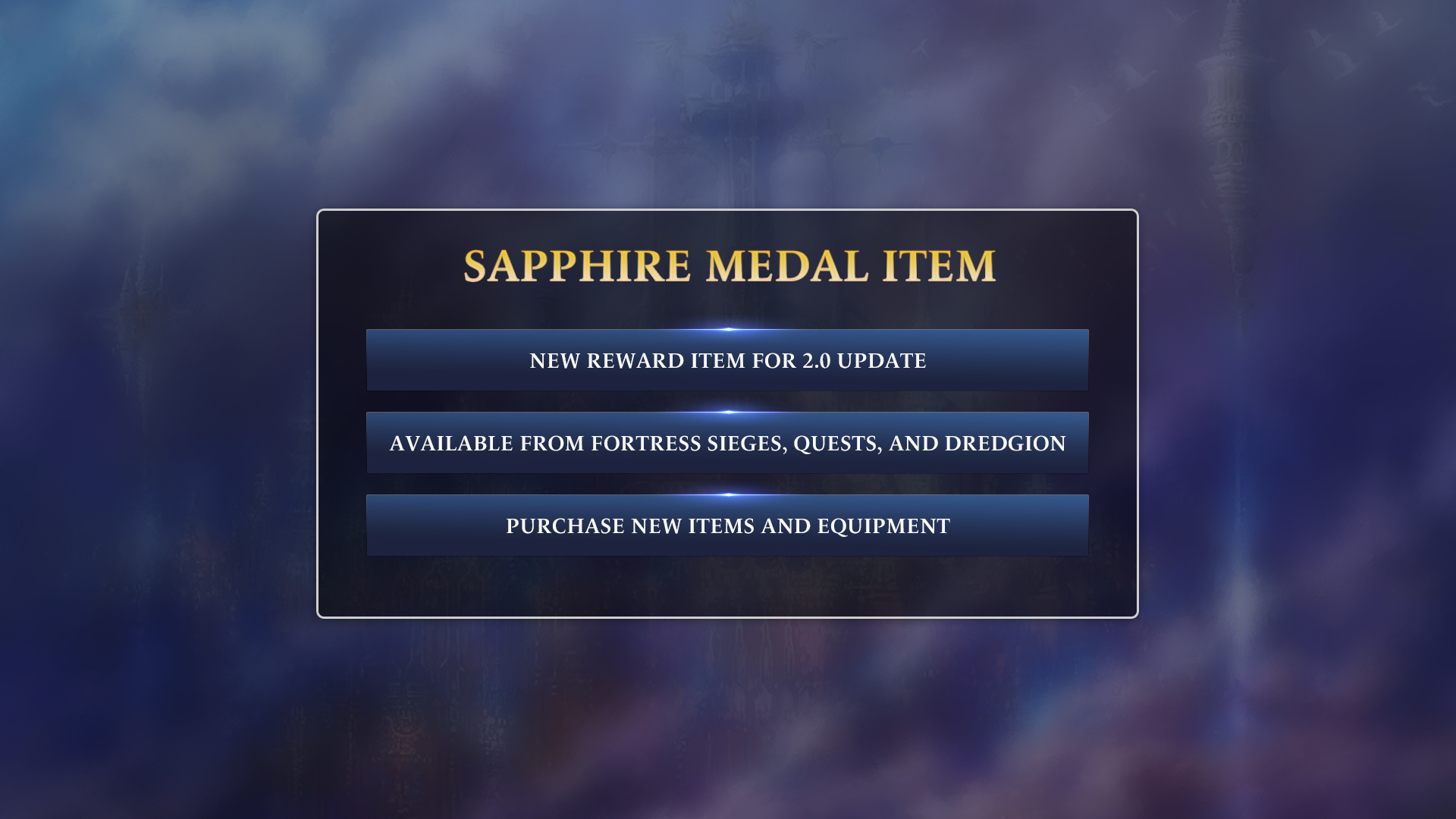 First, we are adding [Sapphire Medals], which can only be used for purchasing Primus Pilus items.
"Sapphire Medals" are a new medal available from Fortress Sieges, Quests, and Dredgion.
Daevas can use "Sapphire Medals" to purchase Primus Pilus items or sell them through the broker to other players.
NEW ITEM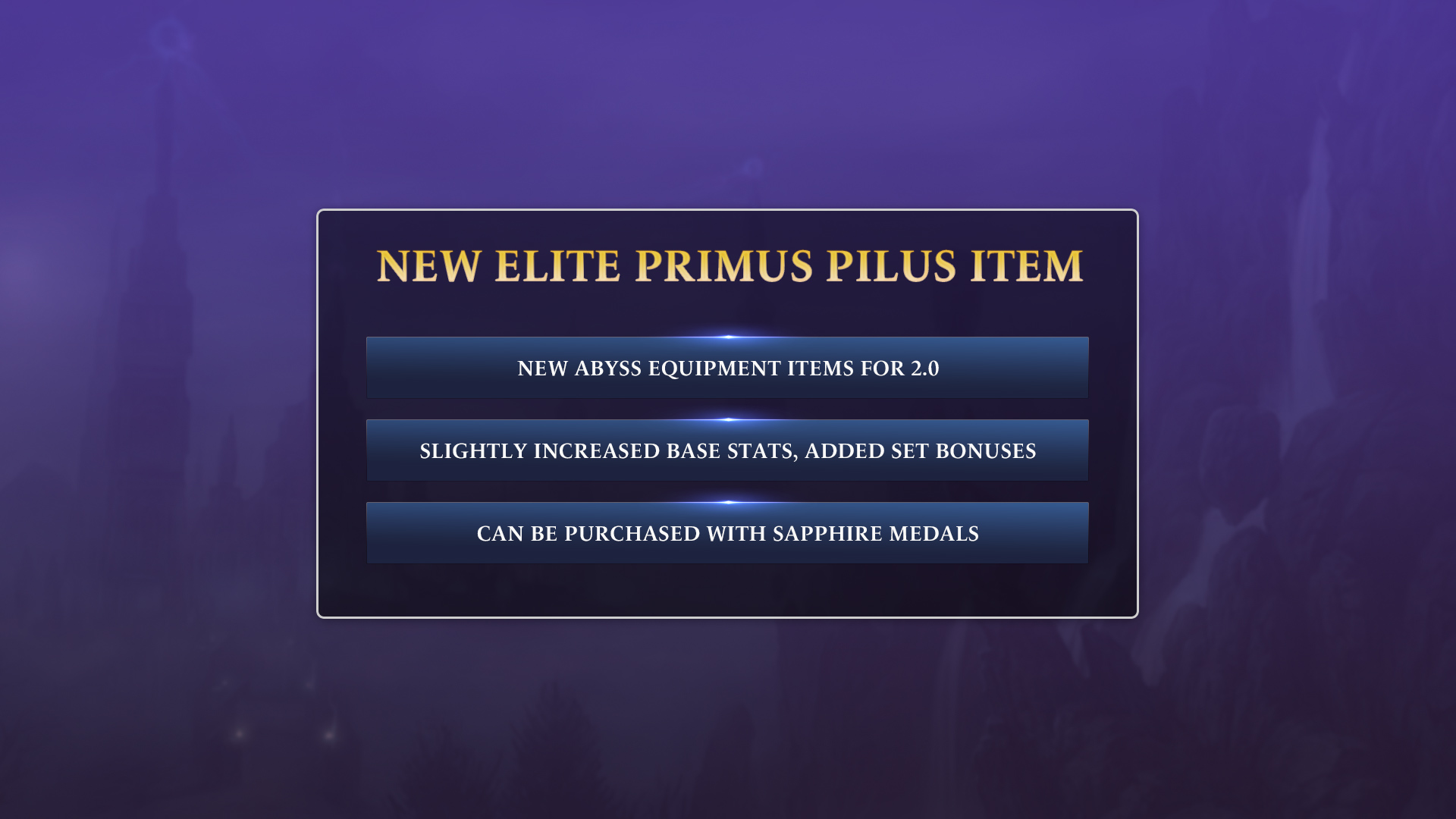 The Elite Primus Pilus set is a PvP set for people who have completed their Elite Tribunus set or are looking for additional choices for their next Abyss equip.
OPTIONS
You must be curious about where to use Platinum Medals. Platinum Medals can be exchanged for Sapphire Medals. This allows you to farm Primus Pilus or Elite Primus Pilus items, or you can also keep the Platinum Medals for Brigade General Items that will be added in future updates.
ABYSS CONTENT
Abyss Content Adjustments
For those of you who love the Abyss, we are bringing some changes to Reshanta. To make it a bit easier to obtain Abyss equipment while leveling, we have increased Gold and Silver medal drops from the Lower Fortress Treasure Rooms and lowered the difficulty.
To help Daevas earn items more efficiently, we've also adjusted the entry level, number of entries, and rewards of the Krotan, Kysis, and Miren Fortress Treasure Rooms so it won't feel like boring daily routines. In addition, we are introducing new raid content to provide various goods, including Godstones.
DIVINE FORTRESS SIEGE
Menothios
Menothios is added to the Divine Fortress Underground.
"As Menothios, the conqueror of Eye of Reshanta, become a threat to the occupying the fortress, Ereshkigal captured them and imprisoned it under Divine Fortress. Menothios was suppressed in a magic circle created by powerful magicians, and the key to breaking the magic circle can only be obtained by the Legion occupying the Divine Fortress.
Although they succeeded in capturing the fortress, to prevent Menotihos from escaping and slaughtering Daevas, when Ereshkigal's power gets weakens, the occupying legion plans to lift the magic circle and defeat Menothios."
And More!
We hope this has whet your appetite for what is to come in Stormwing's Defiance. There are more details to share about each of these, including other updates and bug fixes. Stay tuned for the full update notes coming closer to its official release date later in May!
There is still a little time left before the 2.0 update, but as this is one of the updates Daevas loved the most and have been looking forward to, we will continue working hard to live up to your expectations. Thank you!
See you in Balaurea, Daevas!